The Arrival
The one hour flight with
Jetstar Airways
had been breezy enough. However, it was raining when I arrived that evening - and by the way how my backpack got soak I guessed it must have been raining cats and dogs outside. Sigh! Furthermore, when I got into Terminal 1 of Changi Airport, HIMSELF was still somewhere in the middle of his MRT ride. So my dreams of making a little bit dramatic moments through the arrival hall exit had to be been canceled off then hehehehhe (as if I hadn't been seeing him for years). Instead I had to sit down patiently and joined in the crowds of locals who also happened to have to wait for their love ones to pick them up.
But of course I was glad when he finally got to the terminal where I was in. He was smiling when he approached me and that alone makes me melt and I decided not to say anything about him being late. After a short stop at Burger King we made our way to our hotel.
We had been chatting excitedly to catch up about lotsa stuff that we had been missing when he was not around while we were riding the train. And that results in, us missing the announcement made in the MRT about having to change into another train line at Tanah Merah station to get to Dhoby Ghaut exit and we ended up in the Changi airport again.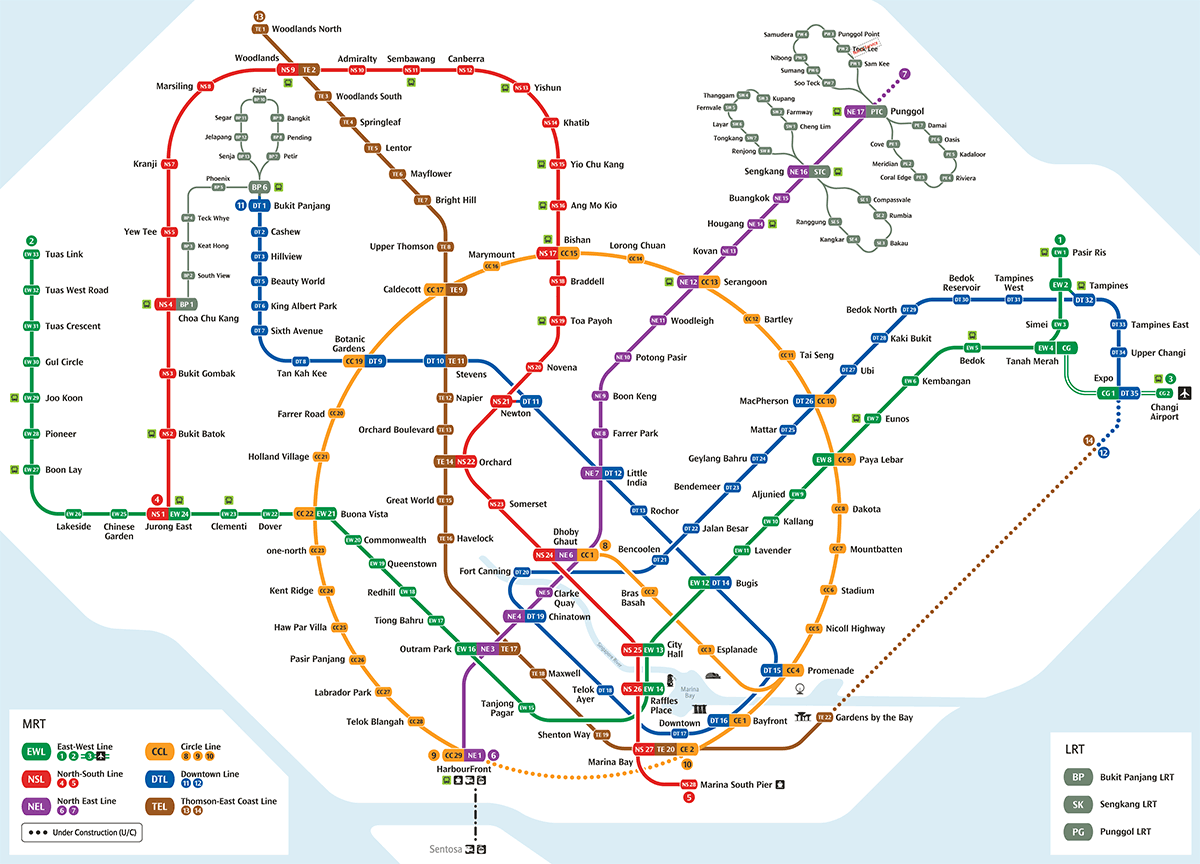 (click to enlarge)
Luckily when we finally made it to the hotel. There were still rooms available for us - thanks god. Or we might have to board that MRT again and find some place else to stay. We had checked beforehand and had been informed by
Hotel 81 in Bencoolen St

.
that we don't need to make any reservation first so that was kinda great because we don't have any credit cards with us in the first place.
We don't have much time to explore Singapore that night, after we checked in and freshen up ourself we decided to go somewhere for dinner before calling the day off. So we boarded on the MRT again and headed towards City Hall stop and we managed to find an open air food court somewhere the Esplanade and had our dinner there. Too bad when we were done it was quarter past midnight and so we had to get the cab instead. God knows how we had to wait before finally it was our turned. I remember I could almost doze off standing there in the queue.

It's All About The Money!

The next day it was sunny at first but slowly it becomes cloudy towards the afternoon. HIMSELF left early that morning for work and I was left on my own device. I woke up somewhere around 9.00 A.M. and get myself ready to explore the city. HIMSELF yesterday had been pointing out places that might be off my interest and belief it or not all of his points are shopping malls. When all I wanna to do really is sight seeing because I wanna to experiment with the cameras.

The reasons why I was not inclined towards shopping was yesterday when I exchanged the Malaysian Ringgit(MYR) into Singapore Dollars (SGD) all I got from 600MYR was 250SGD. I had been checking the receipt again and again if there was any mistakes but no it has been the correct sum and I think if it was not because HIMSELF I will be glad to just called this trip off.
It was actually gruesome thinking off today I had to go to the ATM machines again and see how the money inside depleted in few seconds. Problem was I can't even do that because all of the ATM machines seemed to be rejecting my card. Like what the hell was happening?
And what made me panic more was I got only 10SGD in my wallet and I couldn't get through the line to call the bank - it produced that weird tone whenever I dialed the no. Shit! So I had to call few other people including the important few from back home for help - HIMSELF included and he had actually made the bank call me instead only to know that I was running out of phone credits. So I had to went online to reload and used my last 10 bucks and that was when I noticed my salary cheque was still floating in the account. Like this was it I'm in really deep shit!
I still had couple of hundreds in my account but I freaked out that it wouldn't lasts me till Monday. This is Singapore and Ringgits really means nothing what if I accidentally had spent it over a shoe or a bag that I simply couldn't let myself say "NO"?
Meanwhile I just waited in the hotel rooms until the bank finally rang me and straighten things up. Turned out that I had to activate the card first before using it overseas like wtf? I never had a problem like this with my bank in Ireland. Should have transfer my money to that bank instead. Furthermore the charges for withdrawing from another banks in Singapore would be 12 friggin' ringgits per transactions like excuse me?!!!! That is one decent lunch in Singapore. Crazy!!!
Off to Explore The City
By then I was really turned off by the idea of spending my money here but since I was already in Singapore it was better for me to go out and explore the city and cheer up a bit. So I wander off myself with my Diana on tow from Shenton Way right to
Raffles Place
before heading towards the Esplanade Theater by The Bay and the outdoors towards Merlion Park. I doubt the photos would be nice anyway since it was cloudy all over but heck I just went on anyway.
HIMSELF joined in in the evening and that was when we went for strictly window shopping at Marina Bay and Suntec City shopping mall. He coaxed me to do so and I was touched by his eagerness to show me around - and thus I agreed. I was really exhausted by then and actually had a blister on my feet because of the new
Alice crocs
. Heh! Anyway thanks dear for the new red shoe - I loikkke!!!
I actually had found something in Keith & Charles that I really wanna bring home but I don't wanna take chances. Maybe I could find it back home in Pavillion later or maybe I just should wait for next month and asked for HIMSELF to get it for me instead - WICKED ehhh!!! I know but that's really the only other option that I could think off.
I also turned down his invitation to bring me to Orchard Rd. I simply don't have the will anymore from the long day walking around the city and shopping malls. So we called the day off early. Besides it was the first day of fasting tomorrow so I rather be back in the hotel resting and just be prepared to get up early for sahur.
More Photos
I was not only equipped with my Diana but also my Action Sampler and my digital camera. Yup I think now I'm a real camera freak. So here are some collection from my digital camera. This time around anything in red are excluded.
So here we go again.

That's all for today folks
Next up review of 81 hotel Bencoolen St.