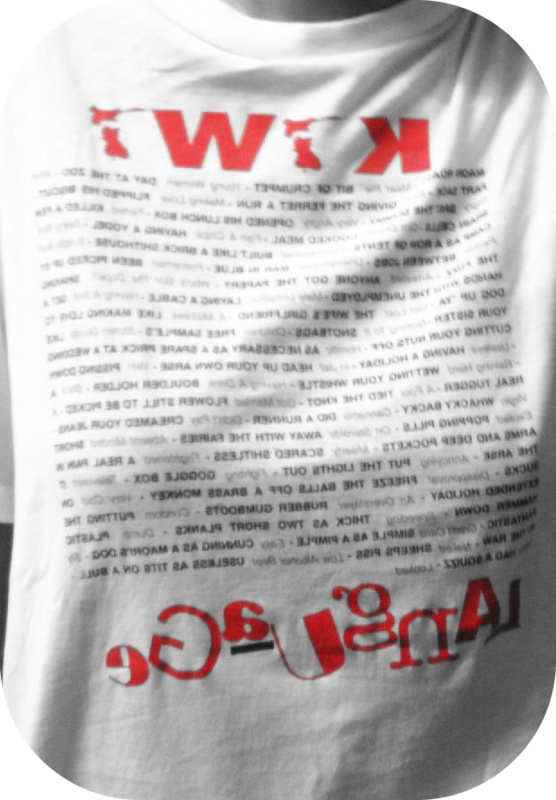 It had been a week and I still hadn't hear anything from HIMSELF
I miss him very badly
Sigh!
When we were dating
(not so long ago)
He would always left his stuffs with me
For safe keeping
Before he went off to sail
And every time
(without fail)
I will ransacked into his belongings
And make all the t-shirts mine
By wearing it to sleep at night
(the pic above is one of his)
The first night after he's gone
I took the last t-shirt that he wore
The one with his perfume still lingers on from the day
(and yeah the mix of sweat as well)
And turned it into a blanket
And sniffed it
And cried
Till I finally slept
Heh!
His t-shirts are still my favs sleepwear now days
Tho' I no longer sniffed on his smelly shirt
And guess what?
I heard this song on Fly FM few nights ago
T-Shirt by Shontelle
(currently airing in my blog)
And I knew instantly this would my perfect song!



Hey

Let me tell you no

oh baby




(Verse 1)

Trying to decide Trying to decide

If I really wanna go out tonight

I never used to go out without you

Not sure I remember how to




Gonna be late Gonna be late

But, all my girls gonna have to wait 'cause

I dont know if I like my outfit

I tried everything in my closet




(Chorus)

Nothin feels right when Im not with you

Sick of this dress and these Jimmy Choos

Takin them off 'cause I feel a fool

Trying to dress up when Im missin you

Imma step out of this lingerie

Curl up in a ball with something Hanes

In bed I lay

With nothing but your T-shirt on

With nothing but your T-shirt on




Hey




Gotta be strong gotta be strong but Im

Really hurtin now that you're gone

I thought maybe I'd do some shopping

But I couldnt get past the door and




Now I dont know, now I dont know If Im

Ever really gonna let you go

And I couldnt even leave my apartment

I'm stripped down, torn up about it




(Chorus)

Nothin feels right when Im not with you

Sick of this dress and these Jimmy Choos

Takin them off 'cause I feel a fool

Trying to dress up when Im missin you

Imma step out of this lingerie

Curl up in a ball with something Hanes

In bed I lay

With nothing but your T-shirt on

With nothing but your T-shirt on

With nothing but your T-shirt on

(cuz I missed you, cuz I missed you)

With nothing but your T-shirt on

(said I missed you baby)




Now I dont know, now I dont know if Im

Ever really gonna let you go

'cause i couldnt even leave my apartment

im stripped down torn up about it




Nothing feels right when Im not with you

Sick of this dress and these Jimmy Choos

Taking them off 'cause I feel a fool

Trying to dress up when Im missin you

Imma step out of this lingerie

Curl up in a ball with something Hanes

In bed I lay

With nothing but your T-shirt on

With nothing but your T-shirt on

With nothing but your T-shirt on

With nothing but your T-shirt on




nothing but your t-shirt on

nothing but your t-shirt on

ooh let me tell you no

nothing but your t-shirt on